Best climbing areas in Tarragona (Spain)
The relief dominated by calcareous rock, granite or conglomerate of Tarragona is ideal for the practice of climbing. Throughout the years new climbing avenues have been opening up and at the moment the province of Tarragona has a wide variety of areas and roads, for all levels and styles of climbing. That's why in recent years Siurana, one of the most important areas, has become a meeting point for climbers from all over the world.
The list of the best climbing areas in Tarragona is broad:
La Serra del Montsant
Siurana
Arbolí
La Mussara
La Riba
The Rojals
Mont-Ral
Etc.
Below we explain the characteristics of each zone, in order to discover places that may have been unknown to you and that you can choose the routes that best suits what you are looking for.
SIERRA DEL MONTSANT
Montsant is one of the most versatile areas in climbing, both bulder and sport, with long routes and spectacular views, with areas of initiation and continuity as well as more techniques. This zone includes more than 100 climbing routes, distributed in several sectors and has a good quality of the rock, characterized by holes of all kinds and fissures. Therefore, the Sierra del Montsant is considered one of the best climbing areas in the country.
One of the highlighted areas is the Grallera Sector, with about thirty medium difficulty roads, from grade IV to 7th grade. The approach is made from the town of La Morera del Montsant. We found long ways with limestone rock and full of fissures, as well as good views.
La Falconera is an interesting climbing area, of medium difficulty. With access of about 20 minutes from La Morera de Montsant. Type of vertical and sport climbing.
Finally, the Sector of the Rock of Xollat ​​arrives on the way to the Grade of Carbassal.
SIURANA
The Siurana area is considered a haven of high difficulty climbing, a place of pilgrimage for climbers from all over the world. The orientation to the south and often the lack of shade makes climbing very difficult during the summer months.
Siuranella Central is one of the main climbing areas of Siurana, characterized by long routes of up to 35 meters, with South / Southwest orientation. The great majority of the roads are of grade 7 and 8, although we can find some of 6. The limestone rock, full of fissures, allows an excellent climbing.
The sector of El Herbolario is one of the most varied areas in terms of level of difficulty, with a score of sports climbing routes with levels from V + to 7c + and a dozen more classic climbing routes. The area has high quality rock ideal for climbing, as well as limestone rock and full of fissures. This area is easy to reach, with just over 15 minutes
ARBOLÍ
Arbolí is one of the most versatile climbing areas, with sectors and routes for all levels. In Arbolí we find types of climbing, such as bulder, sport climbing or technique, although there are also for beginners and suitable for children.
The area where we will find a greater concentration of easy roads is the Can Mansa Sector. Although depending on the time of year it could be saturated with people, the roads are well equipped and the quality of the rock is good and it is only 5 minutes walk from the nearest parking.
If what we are looking for is a more technical area and less saturated with people, we recommend the Sector of La Carbonera, with routes up to grade 7b. Although the quality of the rock is not as good as that of the Can Mansa Sector, it is a good alternative to practice climbing without queues and with a plus of difficulty.
Another favorite sector in Arbolí are El Duque and Placa del Duque. This area is known for its long roads and good quality rock. It has perfect routes for the initiation of IV and IV + grade. It also has some routes of grade 6, 7 and 8.
Finally, the El Quemado sector offers twenty routes, from IV and V to 6º 7º grade. We find roads up to 20 meters high and good views. Its orientation to the south means that there is not much shadow and it becomes complicated in summer.
Other areas of Arbolí are El Halcón, El Dardo and the Sector of the Hermitage.
LA MUSSARA
In the Mussara there is also an important climbing area, in fact, one of the oldest in the Baix Camp, with tracks of 20 to 30 meters in height. In addition, the quality of the rock is good, with limestone, fissures and a wide variety of levels.
One of the areas that we highlight the Mussara is Los Riscos del Mas Nebot. There we find sectors such as El Sótano, an area of ​​mostly technical and sport climbing, although also of classical climbing. The basement sector offers limestone rock and good views of the coast of Tarragona. The approach to the foot of track is about 15 minutes, although it is not a long journey, this makes it less traveled.
The Isabel Sector is characterized by continuity pathways, vertical limestone walls with fissures and collapses. Although it does not have routes of a high difficulty, up to 7a +, since most are of V grade and up to 6b. The main style is the sport climbing but also offers classic climbing routes.
Other sectors are El Raval, with routes that predominate in grade 7 and with orientation to the south or Sector La Covallonga, ideal for initiation and practices.
LA RIBA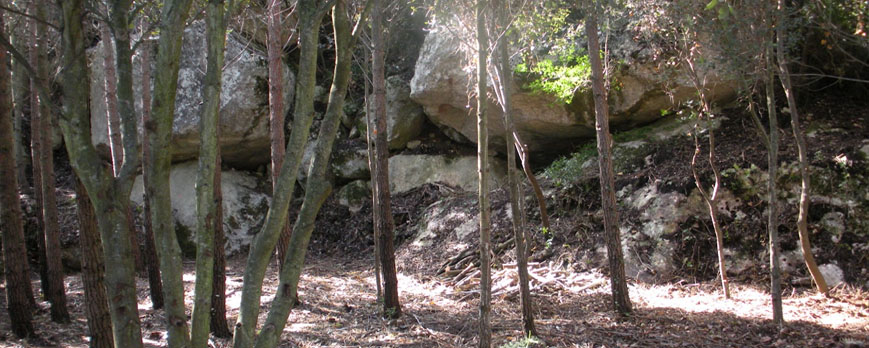 The Brugent River Valley, the area between La Riba and Farena, is characterized by having a limestone rock, full of fissures, rulers and block zones. This is a historically known climbing area, with a wide variety of roads, where we can find heights from 10 to 70 meters.
One of the best known areas of climbing on the blog is the El Clot d'en Goda Sector, with a wide variety of routes, usually long and under a forest, in the shade. The approximation is about 20 minutes from the nearest parking, without much unevenness. The disadvantage of this area is that the rock is a bit worn.
ELS ROJALS
This is the wildest and most isolated area of the Sierra de Prades, one more difficult to find than the other sectors we mentioned. However, it's worth it.
The Cogullons Sector is an area of sport climbing and resistance. The rock is limestone and conglomerate and has a wide variety of roads for all levels. It has a score of routes up to V grade, about 100 routes of medium difficulty and about thirty more technical routes, up to 8 th grade.
MONT-RAL
Mont-Ral is an area with a lot of initiation routes, mainly in bulder, and with pathways in the shade, ideal for the hot summer months. Although a lot of climbing activity is being developed, we also find sports, classic and technical climbing routes.
In Mont-Ral we find what is known as the "Easiest Sector in the World", an area suitable for all audiences. An alternative that does not have much difficulty is the Hay Loco sector, quiet and in good condition. We also find the El Río sector, with views of the Glorieta river.
Visit our Goma II climbing shop in Cornudella del Montsant for more information on sectors, routes and reviews.